May 2023
Yeah, I went totally M.I.A., and I feel comfortable doing so. Part of me (maybe the old people-pleasing tendency) wants to apologize, but I think that's one of the great things about having your own little website (especially with the indie web culture): there aren't any expectations or pressures to produce.
End of March, I watched my sister's house and her three dogs for a week. It was nice to get away, and she paid me a little cash! I also licensed a photograph of mine to illustrate an article in a magazine. The photoeditor told me they were interested in my work, not only because of the style and the concept, but because of the niche of photography I work in. I create a lot of conceptual photography with illusions and practical effects, stuff that looks really surreal and unreal, but isn't heavily manipulated/photoshopped. Eventually I want to begin shooting this sort of work on 4x5 film (or even 35mm). I haven't shared that work here yet, but maybe someday I will :P
In April I bought a Nikon D50. It's an old dSLR from 2005! It was also my first dSLR I ever owned, which my father bought for me back in 2007. I was on my way to the camera shop to pick up a camera strap for another camera I was going to pick up (more on that later) and one of the representatives was trying to sell me on a $60 strap. $60 for a camera strap?! That might not be outrageous, I guess, but for me it is. And then I saw it.. a golden box with three magic letters printed on it: D - 5 - 0. I asked how much. I think they wanted $70. I asked if they'd take $50, we agreed on $55, which is like a tenth of what it cost 18 years ago. For some reason, buying a camera that can actually take photographs for $55 felt like a much better deal than a $60 camera strap. The kicker: it came with a camera strap LOL. Now I keep it in my SUV to take snapshots with.
I think it was nostalgia that bit me. I didn't exactly feel good after I bought it, because I'm not well off. I felt guilty for making a snap purchase. I still wonder if I should keep it, especially as it's just more stuff that I don't need. But the D50 also has a special place for me. Especially moreso after my father passed away last January. I made it through the first year, I don't cry often or as long anymore, but I still get deep pangs of missing him. It's a different pain - the longer I go on, the more the permanence of the loss settles in, in a different way than the immediate tragedy. It hurts.
D50 pros: it's old, it was my first, makes a cool decoration, fun to shoot with because I shoot knowing I can't use the results for much of anything, it reminds me of my dad. D50 cons: it's old, I don't need it, I can't use it for much of anything, it's just more "stuff" to worry about, holding onto it feels like I'm not letting go of the past. It can't replace my dad.
I also picked up some new wheels for my skateboard and started skating around again. I might be too old for it, so I just try to go out to skate empty parking lots at night, after everyone has gone to bed, so I don't concern any mothers.
Regarding the new camera, I wish I could tell my dad, but I now have not only the best Nikon dSLR made, but the best (or at least most well-rounded) dSLR ever made. Now that dSLRs are being phased out (Pentax is the last manufacturer making new ones, and I don't think they'll ever release a dSLR better than the D850), I feel like I've finished a journey. A journey of gear acquisition that I was so excited about at 17, but doesn't quite excite me at 32. It's also my 2nd dream camera that I've acquired (my first was my medium format Pentax 645Z! what a beast!) I've got like.. 2/5 of my dream cameras now, and with each one that acquire, I care even less LOL.
Yep, the Nikon D850. A friend/client/mentor who I do photo editing for called me (a day after I was praying fpr guidance about whether I should give up photography or not) and told me he wanted to fly me down to Texas and give me all his Nikon gear. That was a huge surprise and a blessing (I think! We'll see) He gave me that camera and two excellent lenses to go with it. Since then I've been feeling the spark.
In May, I started getting film related gear handed to me? I got an awesome darkroom enlarger from the 70s, a ton of paper for darkroom printing, a film camera, and a book on darkroom printing, all from various sources. I still don't have everything I need to set up a darkroom, but dang! It feels like a nudge in a certain direction, lol.
After that all went down, I shot two portraits with the D850. The first portrait was of my friend Pete, who I've talked to you about. When he saw the photograph, he told me that he didn't like portraits of himself, but that he really liked that portrait. He told me I captured him for who he is. Then I took a portrait of my friend Veronica. She was telling me how she didn't feel photogenic, that she looked quite weird, but I really wanted to photograph her and I was hoping it would make her feel better as well. When she saw her portrait, she told me she'd never seen herself that way before! This felt like two successes, insofar as I was able to bring some happiness to other people through my craft. I'm very grateful for this.
Here are the portraits: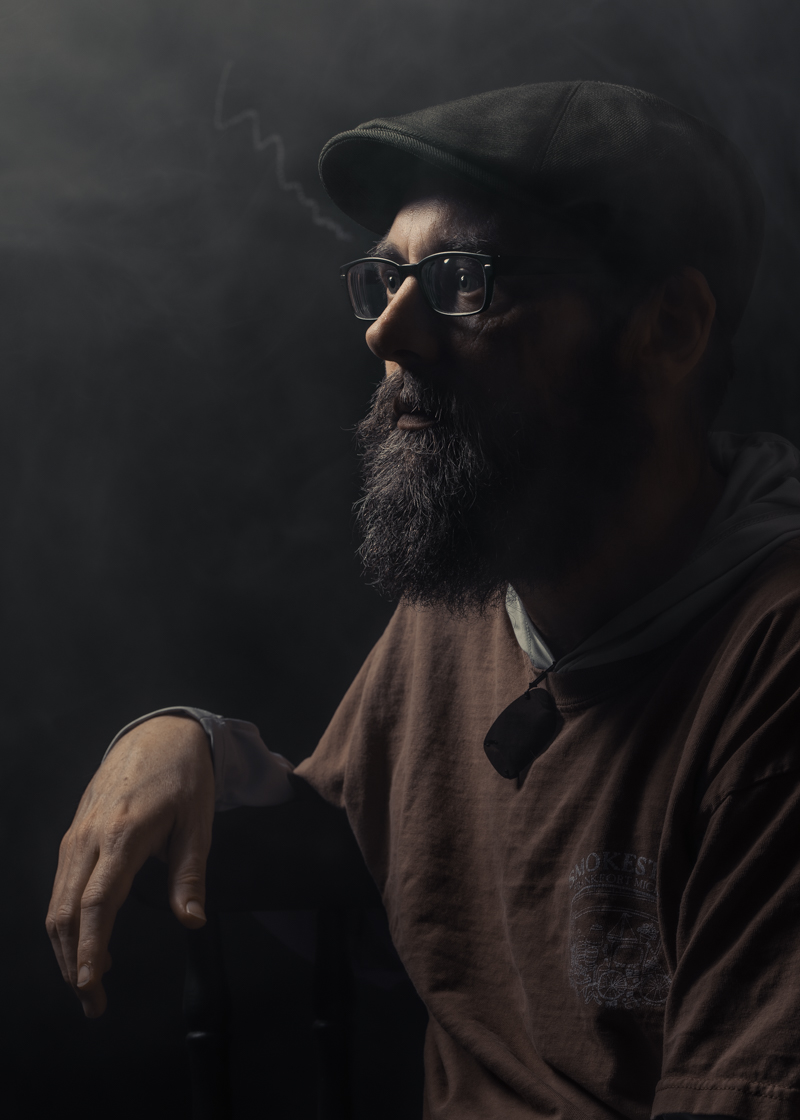 In short, I'm still figuring things out. I applied for night shifts at 7-Eleven as I have experience, but I'm not sure I want to do that. I also had someone at a recording studio telling me they can't pay me hourly, but that they want me to become the resident photographer at the studio, suggesting I might be able to making career connections there. I think I might also apply for a realestate photography gig.
It's weird. I can't predict the future. It reminds me of that proverb about not boasting about tomorrow, because no one knows for sure what's coming around the bend. 6 months ago I was ready to give all my equipment away and quit photography for good. I felt defeated. Now I just want to take photographs again.
I hope you're all doing well, and that you are having a wonderful season.
- Onio